About


Bespoke Glass Structures LTD

Bespoke Glass Structures specialise in structural glazing solutions, architectural glass and sealant application.

Our refusal to accept the "impossible" is what allows us to stay there. That and our steadfast commitment to new technologies, our passion for excellence, and our determination to maintain our core values of quality, innovation, attention to detail and co-operation. It's no surprise that today; we consistently find success when we push the boundaries of what can be achieved with glass.

We are here to design, manufacture and install bespoke glass solutions. Our dedicated team, partners, affiliates and suppliers welcome the opportunity to work closely with you to create your dream glass solution that transforms your living space.

Many customers who come to us are looking to improve their home rather than take up the expense of moving house. They don't want a standard extension that lacks the wow factor - they want something different, something which will stand out from the crowd. A glass structure fits the bill perfectly.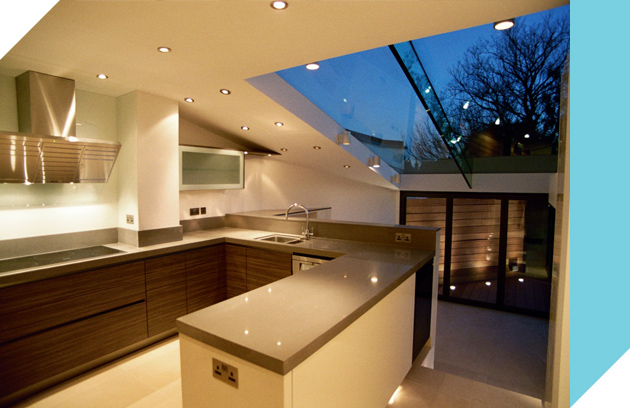 Imagine looking at the stars in the night sky from the warmth and comfort of your own home!
Glass roofing is another upward trend at the moment. Imagine looking at the stars in the night sky from the warmth and comfort of your own home! Glass can also be used in smaller but still equally eye-catching projects such as glass flooring, balustrades and even glass staircases.
We also offer glass structures for businesses who want something that is a little different to entice their customers in. Shop fronts look clean and 'on trend' in frameless glass. As we can create custom glazed structures let us know if you are looking for something a bit quirkier - we can help and advise.
---
Why choose


Bespoke Glass Structures
We offer a free no obligation consultation service to discuss your ideas for enhancing your home and the feasibility and designs available to you.
We can produce a 3D computer image for you to review.
If the space you envisage requires a bespoke design, if you require larger glass vision panels or want something totally unique, contact our design team to help you visualise and design your glass structure. Whatever the shape of the area that you would like to utilise with a glass structure, our design team will work with you to create a beautiful and practical solution.
Following our initial visit, a bespoke design incorporating your ideas will be created for you to review. This will save your time having further site visits while the design is honed to your satisfaction, and so ultimately reducing the waiting time for your glass structure.
Bespoke Glass Structures can offer either a complete design and build package which will see your project through from concept to completion, or if preferred we will liaise and work with your own builder/architect and simply design, manufacture and install your glass structure.